The author
Architecture and theology
The author of the book 'Tweeting with GOD', Rev. Dr Michel Remery M.Sc. (Voorburg, 1973), is a priest of the diocese of Rotterdam, the Netherlands. He studied architecture at Delft University of Technology, and worked for the Royal Netherlands Air Force and as an expat in the Baltic States for the consulting and engineering firm Tebodin. Following his theological studies in Rome, he completed a doctoral dissertation at the Pontifical Gregorian University on the relationship between liturgy and architecture.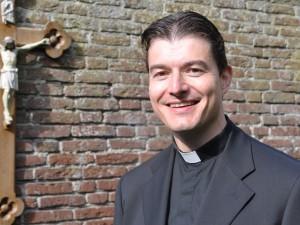 Youth and parish work
For a number of years, Father Remery served as an assistant priest at several parishes in Leiden, the Netherlands, where he worked mainly with young people and university students. He joined them on pilgrimages to Surinam, Italy, the Holy Land, Poland, Turkey, and to many World Youth Days. For several years, Father Remery was a member of an advisory committee on new media and young people at the Vatican office for Internet affairs.
Bishops' conferences and social communications
Michel Remery currently serves as the Vice Secretary General of the Council of European Bishops' Conferences (CCEE). Among other positions, he is the secretary of the CCEE Committee on Social Communications. The CCEE secretariat is located in St. Gallen, Switzerland.