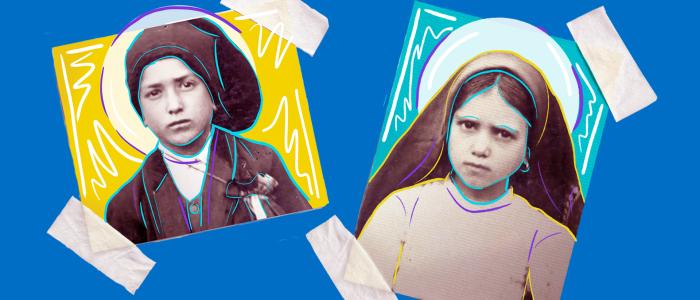 8.49 Why are there so many different images of Mary? What is the use of all these sanctuaries?
Mary - #OnlineSaints
Francisco and Jacinta were herding their sheep when Mary appeared to them near Fatima in Portugal. She returned monthly to speak to them between May and October that year. The children became saints because of their simple but deep faith, strengthened by Mary's prayer.
Fatima became a place of pilgrimage. All around the world there are sanctuaries like this, where people come to pray fervently for their intentions. And they can be certain that Mary will pray with them to Jesus, that they may receive what God desires for them. 
For more on these saints, scan the picture with the app Online with Saints or click:
→ Saint Francisco
→ Saint Jacinta
Mary is the mother of all, and we can all see her in a different light. Sanctuaries are special places of prayer where we can go on pilgrimage to be helped in our faith.