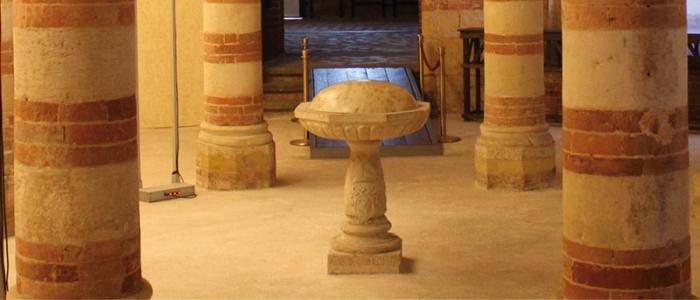 3.22 What is the baptismal font? Why are there statues in the church?
Inside the church building
The baptismal font contains the water that is used to baptise people. This is where new life as a Christian begins. Statues in churches help us think of the saints. The faithful can ask the saints (not the statues!) to join them in praying to God. These saints are all close to God in heaven.
When you light a candle at one of the statues, this candle represents your prayers that continue even when you leave the church. The saint will pray for you.
The font is where a person is baptised & becomes a Christian. Statues & images help us to ask the saints to pray with us & for us.
The Wisdom of the Church
Why does the Old Testament forbid images of God, and why do we Christians no longer keep that commandment?
In order to protect the mystery of God and to set the people of Israel apart from the idolatrous practices of the pagans, the First Commandment said, "You shall not make for yourself a graven image" (Ex 20:4). However, since God himself acquired a human face in Jesus Christ, the prohibition against images was repealed in Christianity; in the Eastern Church, icons are even regarded as sacred.
The knowledge of the patriarchs of Israel that God surpasses everything (transcendence) and is much greater than anything in the world lives on today in Judaism as in Islam, where no image of God is or ever was allowed. In Christianity, in light of Christ's life on earth, the prohibition against images was mitigated from the fourth century on and was abolished at the Second Council of Nicaea (787). By his Incarnation, God is no longer absolutely unimaginable; after Jesus we can picture what he is like: "He who has seen me has seen the Father" (Jn 14:9). [Youcat 358]
This is what the Popes say
When in thought I look back over the long path of my life, I reflect on how the surroundings, the parish and my family brought me to the baptismal font of the church of Wadowice, where I was, given on 20 June 1920 the grace to become a son of God, together with faith in my Redeemer. I have already solemnly kissed this font in the year of the Millennium of the Baptism of Poland, when I was Archbishop of Krakow. Today I wish to kiss it again as Pope, successor of Saint Peter. I wish to fix my gaze on the face of the Mother of Perpetual Help in her image at Wadowice. [Pope John Paul II, Address at Wadowice, 7 June 1979]